Situational Judgement is a unique section of the UCAT exam in which ethical and moral scenarios in university, hospital and other clinical contexts are presented to students. You will be asked to interpret these real world situations, and identify important factors and appropriate responses in how to assess, prioritise and manage key stakeholders and issues.
Situational Judgement in the UCAT is broken down into:
Time: 26 minutes (plus an additional minute to review the questions)
Questions: 69
Average time per question: 22 seconds
An In depth Breakdown
There are two parts to UCAT Situational Judgement questions. There are 22 scenarios provided, with two to five questions per scenario.
Response options are to rate four options, rate two options based on their importance, and/or picking the most and least appropriate action out of three options presented.
Part 1:
Students are given a scenario, and are asked to rate the importance of a series of statements in response to it.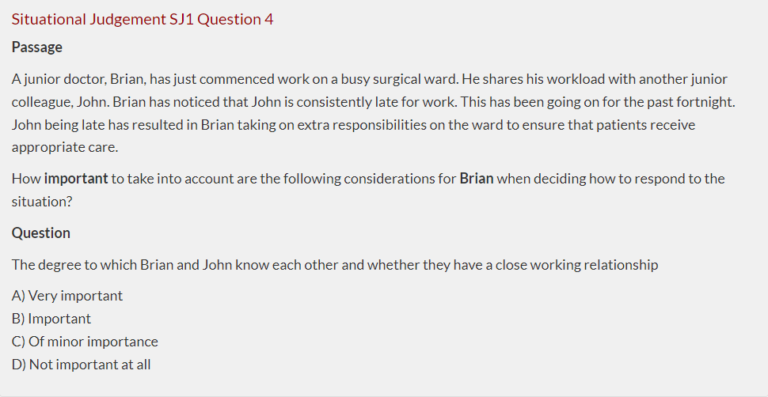 Part 2:
Students are asked to rate the appropriateness of a series of statements in response to the scenario provided.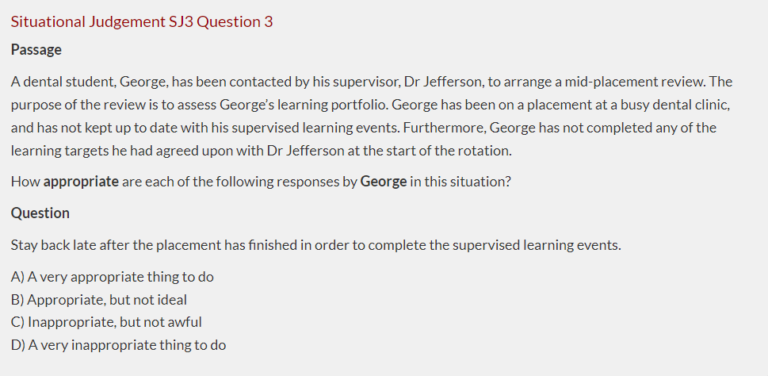 Understand Good Medical Practice
This UCAT test assesses integrity, perspective taking, team involvement, resilience and adaptability. These are all key skills for medical students, junior doctors and even consultants to use in their daily practice. Students should seek to first understand the key ethical principles which medical students and doctors abide by. Many scenarios also focus on skills required for medical students to uphold, including teamwork, academic integrity and appropriate student conduct.
Official guidelines Good Medical Practice: a code of conduct for doctors in Australia from the Medical Board of Australia, and Good Medical Practice from the Medical Council of New Zealand are invaluable references for understanding how best to respond to situations.
Know your role and what's being asked of you
Some Situational Judgement Questions are universal, while others may put you in a role. Being placed in a role will make you adapt to the unique perspective and responsibilities expected of that role, and you should answer accordingly. If placed in the role of a medical student, for example, you would not be expected to deliver patient results – let alone prescribe medicine or perform procedures. In the role of a doctor, you may be expected to counsel, console or discuss certain issues in particular ways with your patients, seniors as well as junior doctors. This section is a great way to learn to put yourself in the shoes of roles that you wish to play in the future: a medical student, a junior doctor, and eventually a consultant!
Practice with the right support
Once you've got an understanding of how to best answer questions, practising under exam conditions will allow you to improve your decision-making under pressure. Answering so many questions in a short timeframe may cause you to revert to preconceived views, and regular practice will help you break habits and answer questions more accurately. think carefully if the question seems to expect a unilateral decision from you.
ACE HSC offers fortnightly Trial Exams to practice held under exam conditions, letting you as well as track your performance against other candidates in the ACE HSC cohort. These UCAT practice answers can then be worked through alongside our tutors to help understand why some answers are more appropriate than others.
Need more help?
Call ACE HSC on (02) 9874 7045, email us or make an enquiry if you want to find out how we can help you prepare for the UCAT!